Business Directory
reach local customers
Get found where your customers search
Your business, listed where your customers are looking!
Reach new customers, increase your sales
According to a Google study, 80% of consumers regularly query search engines for local business information, with half of them visiting a local business within a day of the search.
Our exclusive Business Directory service can now have your business listed and updated live through our network partners.
Packaged for small business
Add your website, with one click!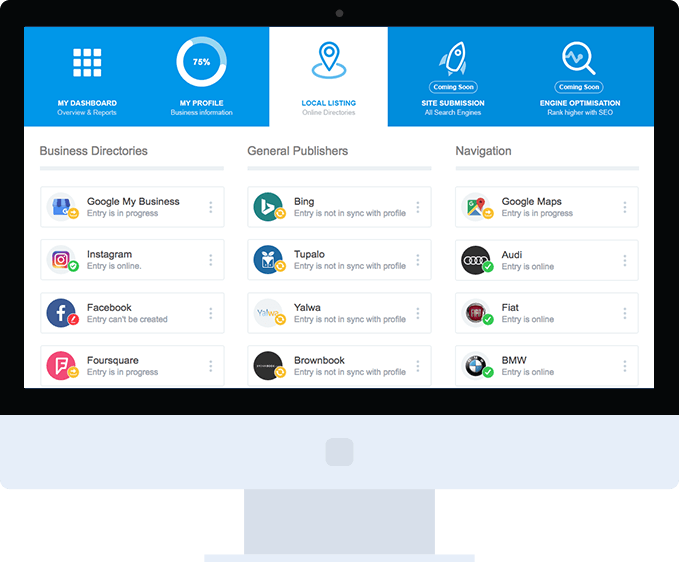 Easy and Simple

Enter your business information and your listing will be distributed to all selected online directories with a return confirmation.

Guaranteed Listings

Our automatic data checks will check if all directories entries are valid and updated, ensuring you a guaranteed listing.

Always Expanding

We are always adding additional updates, directories, and specialised industry sites. As we expand so will you, we never stop growing.
Advantages of Business Directory
Grow your business, and go where your customers are
Get found online quickly and easily
Customers are using PCs, laptops and mobile devices anywhere, any time, and every day. Make sure they can find you and get the information they need immediately: our local Business Directory lists your business on over 22 platforms.
Your information updated everywhere
Many platforms use different data sources. However, these can be incorrect, incomplete, or your company is missing. Our directory service has direct access to more than 22 platforms, and will ensure all information is correct.
Improve your Google search listing
The number of business entries you have online has a huge impact on the ranking of your company in search engines. It is a sign of the credibility of the company, ranking you above lower quaility competitors.
Customer Feedback Monitoring
Improve your reputation and read what your customers are saying.
Whether you like it or not, your customers are talking about your brand. About good experiences and bad. Their experiences will be shared publicly on the web - as comments, reviews, ratings, likes, check-ins and photos.
The only problem is: how do you monitor and make sense of all the social content out there?
Our Business Directory reputation hub is the solution, it monitors all the content users create about your business on Facebook, Google, Foursquare and other websites and gives you first-hand what your customers think and say about your brand - and allows you to take part in that conversation.
This is an insanely valuable asset to any business planning and now can be purchased additionally with any Business Directory plan.
Your Questions, Our Answers
What makes Business Directory unique?
Nowadays, more people are looking for numbers to call or websites to browse when they want faster services from local businesses.
A business directory enables all types of businesses make brand campaigns easier and faster. It is a powerful tool that increases web presence and brand awareness. Unlike other marketing strategies, it is very short and responsive to the necessary details that customers are searching for. It is also very accessible because you can find and use it regardless of your location.
How reliable is a Business Directory software?
It supports your directory listing
Your directory listings cannot run without a reliable software that ensures its functionality. To make sure the program is efficient, you can add your directory listing anytime if you host your website with us at Crazy Domains. Moreover, we will automatically register your domain in the Global Domain Directory to help you promote your business instantly.
It protects your website
At Crazy Domains we also offer an SSL certificate that secures the communication and exchange of information between you and your customers. It is necessary for business listings to be supported by a database like SSL to avoid hijacks and other malicious cyber activity.
SSL certificates are computer files that digitally combine the SSL encryption with the details from your website. This will help you secure the connection between your website and your client's browser.
It safeguards your online business directory
Compared to traditional trading, electronic directories have some shared confidential information that must be protected. Using a safe and secured business directory software, you can be sure that the submission of information between you and your clients will remain confidential.
It ensures the authenticity of your business
Data forgery and phishing can destroy the reputation and authenticity of your website and will most likely scare away your clients. A trusted computer plug-in will help keep your name and make sure that your advertising is legal.
People will trust you more if you are authentic and legitimate. These days, most entrepreneurs invest online because of the 'easy' money it makes and quick generation of sales. However, there are cyber criminals that create fraud to harm your business.
How can local business listings improve businesses?
It boosts marketing strategy
Local listing reinforces your marketing strategy because it helps your business achieve strong recognition within your location. It's hard to compete with a large company that's focused on both local and national customers. As a local industry, directories help you focus on modernizing strategies and advancing approaches. Remember that a good marketing foundation is always the key to keep competing with solid competitors.
It optimizes data
One of the good ways to improve your brand's identity in a local small business directory is to make sure that every page features specific details such as business name, address, phone number, location and social networking sites.
This is one way of obtaining credibility because when people browse search engine giants like Google, Yahoo, and Bing, your business identity will be verified immediately. It also places your name on top of search results if you remain consistent on your keyword generation and SEO-friendly tactics.
It validates business information
Your online business listings will not survive without the foundation of a dedicated site. In order to build a sustained web presence, a showcase of attractive special discounts to your page will improve your local business profile. Aside from accurate details, you can also add affordable deals and promos.
The ultimate reason why you use directories is to catch the attention of potential clients and increase sales, right? A directory surely fulfills this purpose and in the best manner, returns your investments.
It is a highly strategic approach
Since your business is categorized with similar providers, you can link your website in directory pages and improve your SEO for higher chances of brand awareness. It also allows you to incorporate your merchandise with a good template, design and photos to advertise your products.
As a strategy, some directories list physical store location and other nearby streets that are beneficial to clients. Simply put, the information found in directories is what constitutes the face of your company and expands its visibility.
What makes new Business Directory standout from traditional Yellow Pages?
It increases your brand's popularity
Although some might say that local business listings are confined to a particular location, the internet debunks this myth. Every trade industry wants to achieve maximum exposure to a large number of customers and the online world has the biggest contribution to this goal. It can actually expand through the internet's influence to promote your products and services.
It gives you an opportunity to show the credibility of your profile and expose the indispensable offers of your niche. It also reaches other undecided customers who are in one way or another, interested to buy your products.
It provides more accessible information
Local business directories allow you to showcase fundamental details such as recent location, website link, email address, blogs, among others. Any interested customer can dial your number or visit your website to reach you immediately. This is one way developing authentic brand quality.
It will also help you establish brand familiarity and educate clients about the services that you offer. This way, it will be easier for you to be connected with them. This connection will eventually turn into trust and loyalty which are the two core foundation that will build the success of your company.
It promotes larger area of visibility
Your niche may be big and long established, but not all people are aware of it because it's not visible in the internet yet. What most customers look for is someone that they can quickly get in touch with. Your niche has an advantage if you are part of a new business directory because people can easily find and contact you when you have the products that match their needs.
Traditional pages are still functional, however, the electronic directories are more convenient for customers since they spend most of their time browsing the web. With this trend, larger number of clients can see and know you.
It can be updated anytime
Unlike traditional yellow pages, online directories can be updated anytime. Traditional pages also need at least one year before an updated version will be published. However, the new one is a very accessible tool; you can change information and provide updated and accurate details to the clients anytime.
You can also include significant pictures and maps to help your clients identify and locate you. You can quickly edit any short article you wrote in your directory, change advertisements, and post special announcements for promos and discounts.
What are the advantages of a small Business Directory?
Inexpensive marketing
A small business directory can be a major advertising tool that expands the scope of your merchandize at large. Take note that every industry is forming a sustainable base to engage customers over and over again. Your company needs to always be competitive. Make sure you improve your local profile and, of course, always take advantage of affordable advertising. This also means that you can increase brand awareness without breaking the bank.
Sufficient space for startups
A local business directory is what a startup company needs. Compared to larger ones, it can operate more efficiently because it is easier to both manage and maintain. Using it, a small retailer can market comfortably without huge companies to compete with. Through limited and specific categories, clients can immediately decide on the kind of services they want to purchase. Clients can find the products they want without spending too much time scanning several options.
Quick influence to customers
Customers who look for business directories already have an idea about a specific product they want to purchase. They browse business listings searching for the perfect service that will match their needs. And most of the time, they peruse minor directories because of their accuracy. Other large directories submit generous options, but remember that clients always choose a store they can connect with immediately.
On the other hand, another good point of an electronic directory is that, it introduces your company no matter how neophyte it is.
Chance to expand visibility faster
Business directory listings allow all retailers to channel necessary details that will help customers find them. In US business directory, Americans can find multiple trade industries from Las Vegas, Chicago, Houston, to Atlanta and Long Island. However, minor directories are still beneficial especially in local trading because of their informative and readable nature. Customers can scan and skim quickly because there are only a handful of choices.
The best business directory depends on the type of niche that you are looking for - whether products within the USA or an international trade exchange with Spain.